2024 U.S. PRESIDENTIAL CAMPAIGN
FIRST WOMAN PRESIDENT? Eyeing history, Nikki Haley will announce her run for GOP presidential nomination on Feb. 15
But running so low in the polls, is the former governor and UN ambassador actually positioning herself to become VP?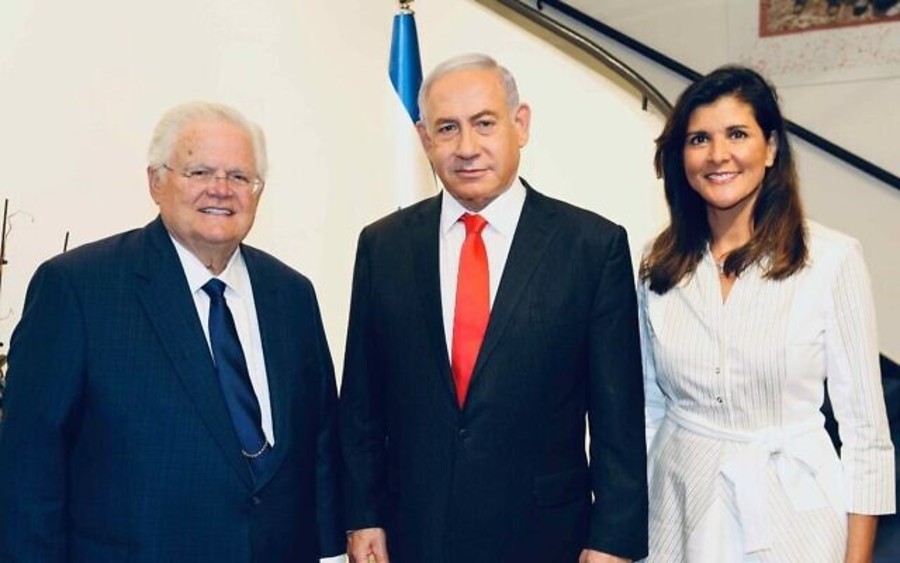 Israeli Prime Minister Benjamin Netanyahu (C) hosts CUFI President John Hagee and former U.S. Ambassador to the UN Nikki Haley at the Prime Minister's Residence in Jerusalem, June 14, 2021. (Photo: Nikki Haley/Twitter)
JERUSALEM, ISRAEL – Nikki Haley only turned 51 on Jan. 20..
But for someone so young, she's gotten a lot done.
She served as a member of Congress from South Carolina for six years.
She was elected governor of her state twice, serving a total of six years.
Then she was appointed by former U.S. President Donald J. Trump to serve as the U.S. ambassador to the United Nations.
There she received plaudits for fiercely defending and advancing Trump's "America First" foreign policy.
And staunchly defending Israel against the Jewish state's many haters at the UN and in the media.
Indeed, her pro-Israel credentials are strong – and she has built close ties to Rev. John Hagee, founder of Christians United For Israel (CUFI) who brought her to Israel for a visit in 2021, and then invited her to address the CUFI annual conference in Washington, D.C., last summer.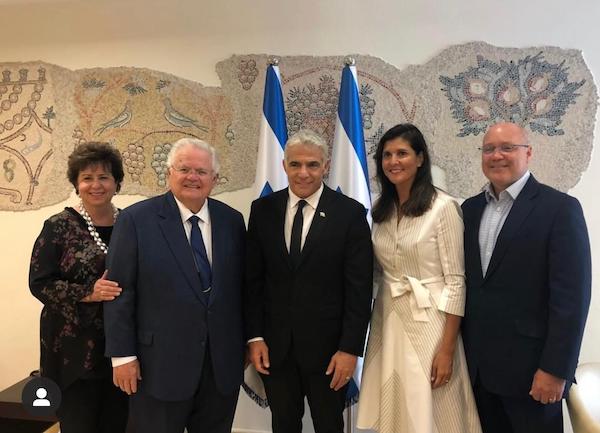 CUFI President John Hagee and former U.S. Ambassador to the UN Nikki Haley meet with then-Israeli Foreign Minister Yair Lapid, June 14, 2021 (Photo: Yair Lapid/Twitter)
SETTING HER SIGHTS ON THE BIG PRIZE
Now, after spending the last two years building a political operation, raising millions of dollars, and campaigning for GOP candidates at the state and federal level, she has set her sights on a much bigger prize. Nikki Haley wants to become America's first woman president.
She is set to make a formal announcement on Feb. 15, according to her hometown newspaper, The Post & Courier.
This will make her only the second Republican to jump into the race after her last boss, Trump himself.
But there are others seriously looking at a run, including Florida Governor Ron DeSantis, former Vice President Mike Pence, former Secretary of State Mike Pompeo, and South Carolina Senator Tim Scott, just to name a few.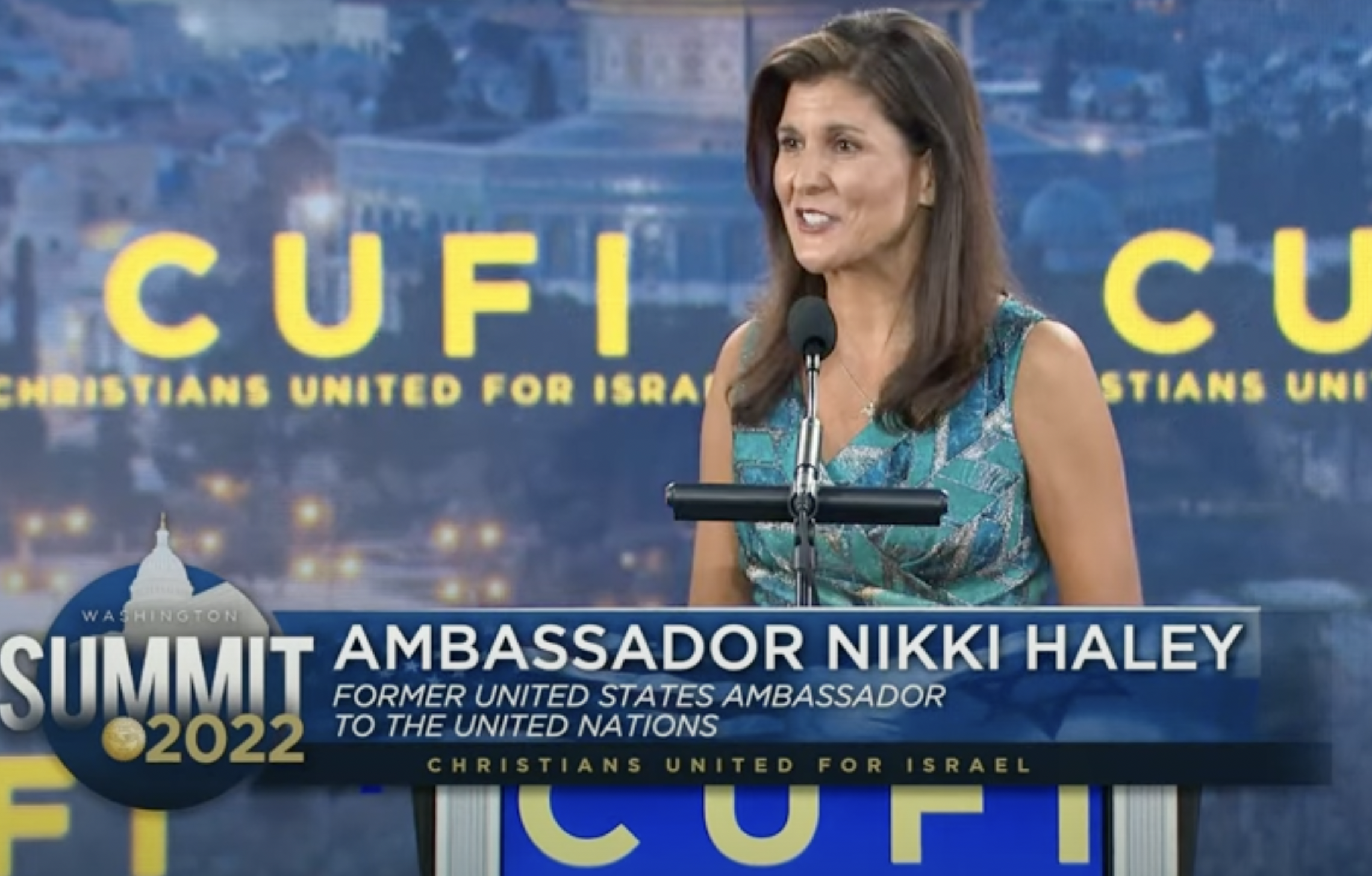 Former United States Ambassador to the United Nations Nikki Haley speaks at CUFI Summit 2022, July 18, 2022 (Photo: Screenshot)
OR IS SHE REALLY RUNNING FOR VICE PRESIDENT?
Does Haley have a realistic shot?
Not according to most public polls.
Real Clear Politics reports that of all the recent polling, Haley is averaging only 3.2% support.
DeSantis, meanwhile, is averaging 30.8%.
Trump, the clear frontrunner, is averaging 46.4%.
Many political analysts I've spoken to over the past year think Haley is really running for vice president.
And many think she's the odds-on favorite to be almost any Republican nominee's first choice.
But Haley argues that the polls are irrelevant this far out – and that both the GOP and the nation are looking for leadership from a younger generation.
Biden, after all, recently turned 80 years old.
Trump is 76.
"When you're looking at the future of America, I think it's time for new generational change," Haley recently told Fox News. "I don't think you need to be 80 years old to go be a leader in D.C." she added. "I think we need a young generation to come in, step up, and really start fixing things."
"When you're looking at a run for president, you look at two things. You first look at, 'Does the current situation push for new?' The second question is, 'Am I that person that could be that new leader?' You know, on the first question, you can look all across the board, domestic, foreign policy. You can look at, you know, inflation going up, economy shrinking, government getting bigger, you know, small business owners not being able to pay their rent. Big businesses getting these bailouts, all of these things warrant the fact that, yes, we need to go in a new direction."
"So do I think I could be that leader? Yes, But we are still working through things and we'll figure it out. I've never lost a race. I said that then, I still say that now. I'm not going to lose now," she added.
Given how important the U.S.-Israel alliance is, ALL ISRAEL NEWS will be covering the 2024 presidential campaign – on both sides, Democrat and Republican – very closely.

Joel C. Rosenberg is the editor-in-chief of ALL ISRAEL NEWS and ALL ARAB NEWS and the President and CEO of Near East Media. A New York Times best-selling author, Middle East analyst, and Evangelical leader, he lives in Jerusalem with his wife and sons.
A message from All Israel News
Help us educate Christians on a daily basis about what is happening in Israel & the Middle East and why it matters.
For as little as $5, you can support ALL ISRAEL NEWS, a non-profit media organization that is supported by readers like you.
Donate to ALL ISRAEL NEWS
Current Top Stories
Comments