Democratic Sen. Joe Manchin urges Biden to get tough with Putin by halting the practice of buying 600,000 barrels of oil daily from Putin's Russia – will Biden listen?
Manchin is absolutely right – why pump $64 million a day into the Kremlin's coffers?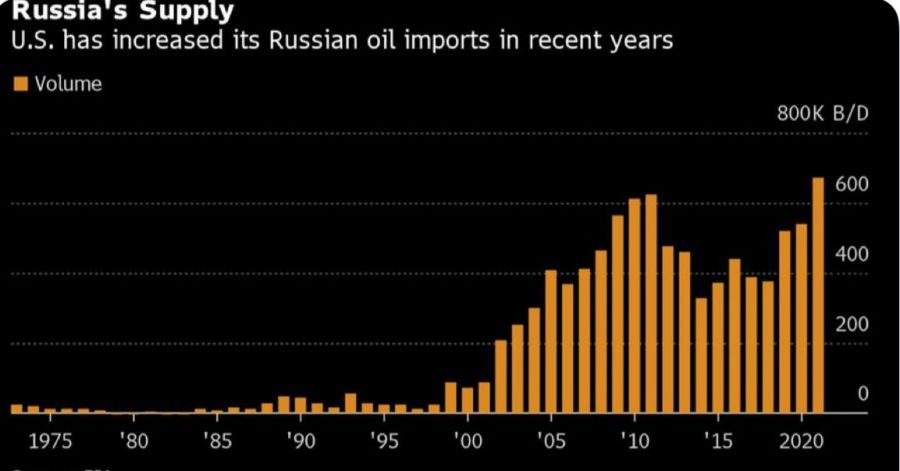 (graphic credit: Bloomberg News Twitter feed)
During his first State of the Union address Tuesday night, President Joe Biden repeatedly told Congress and the American people that he was going to get tough on Czar Putin because of his criminal invasion of Ukraine.
Biden insisted he was imposing devastating economic sanctions on Russia.
He also insisted he was leading the world's effort to isolate and punish Putin. 
In another part of his speech, Biden insisted that his administration will only "buy American."
Yet Biden never mentioned that on his watch the U.S. is buying 600,000 barrels of oil a day from Putin's Russia. 
With oil now $107 a barrel, that means that Biden is pumping some $64 million a day into Putin's coffers.
Why didn't Biden vow to stop this insane practice immediately? 
That's what Democratic Senator Joe Manchin of West Virginia wants Biden to do.
"The entire world is watching as Vladimir Putin uses energy as a weapon in an attempt to extort and coerce our European allies," Manchin said Monday.
"While Americans decry what is happening in Ukraine, the United States continues to allow the import of more than half a million barrels per day of crude oil and other petroleum products from Russia during this time of war," he added. "This makes no sense at all and represents a clear and present danger to our nation's energy security."
Manchin went on to say, "The United States can and must ramp up domestic energy production and increase access to our abundant resources and technologies to both protect our energy independence and support our allies around the globe. If there was ever a time to be energy independent, it is now."
"I am calling on the administration and industry partners to take action immediately, up to and including banning crude oil imports from Russia. To continue to ask other countries to do what we can do for ourselves in a cleaner way is hypocritical. To continue to rely on Russian energy as they attack Ukraine is senseless. In the coming days and weeks, the strategic value of American energy and what can be done to better position our nation on the global stage will be an ongoing topic in the Senate Energy and Natural Resources Committee."
Manchin is absolutely right.
Biden should ban Russian oil imports.
He should dramatically expand U.S. oil and gas production.
He should restart the Keystone XL pipeline.
He should support the EastMed pipeline that would pump Israeli gas to Europe.
And, if needed, he should buy additional oil from America's moderate Arab allies – not from Putin.
Will Biden listen?
There's not a lot of reason to be optimistic, but let's pray that Biden wakes up and does the right thing.
Quickly. 

Joel C. Rosenberg is the editor-in-chief of ALL ISRAEL NEWS and ALL ARAB NEWS and the President and CEO of Near East Media. A New York Times best-selling author, Middle East analyst, and Evangelical leader, he lives in Jerusalem with his wife and sons.
A message from All Israel News
Help us educate Christians on a daily basis about what is happening in Israel & the Middle East and why it matters.
For as little as $5, you can support ALL ISRAEL NEWS, a non-profit media organization that is supported by readers like you.
Donate to ALL ISRAEL NEWS
Current Top Stories
Comments