Blinken leaves a team in the region to 'help diffuse the current situation'
Secretary of State says U.S. committed to "shared commitment that Iran not acquire a nuclear weapon"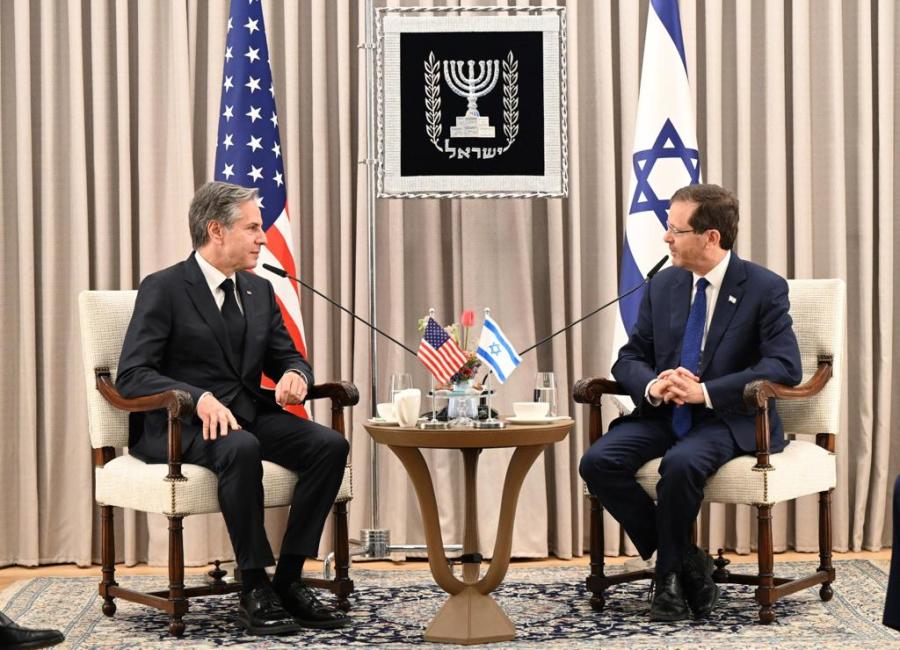 Israeli President Isaac Herzog meets with U.S. Secretary of State Antony Blinken, Jan. 30, 2023 (Photo: Haim Zach/GPO)
Palestinian and Israeli leaders said they would work to restore calm after one of the deadliest weeks in recent years, but hopes for a wider peace – or even for resuming talks – did not transpire during U.S. Secretary of State Antony Blinken's visit to the region.
Blinken acknowledged the recent escalation in violence and expressed condolences to Israeli victims of terrorism from Friday night's synagogue attack and also to Palestinian President Mahmoud Abbas for the loss of Palestinian lives – more than 30 during January – which included some civilians among militants killed in Israeli military operations.
"Across my meetings with Israel's government, the Palestinian Authority, our partners in Cairo, I heard a deep concern about the current trajectory," Blinken said. "But I also heard constructive ideas for practical steps that each side can take to lower the temperature, to foster greater cooperation, to bolster people's security."
Blinken announced that senior members of his team will stay in the region to carry on discussions on how to advance these steps.
"I think there are some concrete ideas from both sides that, if pursued, would really help diffuse the current situation, and it's why I asked some of my colleagues to stay behind to support the efforts that both parties are making to try to get to a better path," he explained.
Blinken's Middle East swing began in Egypt and continued in Jerusalem and Ramallah where he met with Israeli and Palestinian leaders on Monday and Tuesday. The secretary of state reaffirmed America's commitment to preventing a nuclear Iran, while reiterating the administration's support for a two-state solution and maintaining the status quo on the Temple Mount.
"We have no illusions that heightened tensions can be defused overnight, but we're prepared to support efforts here and with partners in the region if the parties have the will to do so," he said. "The United States is always ready and willing to be a partner in the cause of peace and security."
The timing of Blinken's visit also coincided with drone attacks – believed to be carried out by Israel – on an Iranian military plant on Sunday. Blinken said that the U.S. and Israel have "a shared commitment – one, that Iran not acquire a nuclear weapon, and two, that we continue to stand together with other countries as well against the many destabilizing and dangerous actions that Iran is engaged in in the region, and now, increasingly, beyond."
"(Israeli) Minister of Defense (Yoav) Gallant and I discussed ways to deepen our cooperation to confront and counter the Iranian regime's destabilizing actions in the region and beyond," Blinken said during a news conference on Tuesday as he wrapped up his visit. 
Earlier in the week, Blinken met with Egyptian President Abdel Fattah el-Sisi where he underscored Cairo's role as a frequent negotiator and "in helping Israel and the Palestinians de-escalate, reduce tensions and lay the foundation for a more peaceful path."
America, he said, continues to oppose settlement expansion, legalizing illegal outposts and unilateral annexation of the West Bank.
"We will also support all efforts to move us closer to peace, expand the horizon of hope, advance equal rights and opportunities for Palestinians and Israelis," he said. "That includes building on the efforts that we've made over the past two years to improve the lives of the Palestinian people in concrete ways."
Under Biden, the U.S. restored funding to the United Nations Relief and Works Agency for Palestine Refugees (UNRWA) and other avenues to help Palestinians, reversing course on the Israeli-Palestinian conflict from the previous administration. During former U.S. President Donald Trump's term, relations between the U.S. and the Palestinians soured. Trump cut off funding to the UNRWA and closed the Palestinian diplomatic mission in Washington, among other moves.
Angering the Palestinians further, ties with Israel soared under Trump as he moved the U.S. Embassy to Jerusalem and officially recognized Jerusalem as Israel's capital and Israel's sovereignty over the Golan Heights.
Trump also bypassed the Israeli-Palestinian conflict by initiating the Abraham Accords – historic agreements between Israel and four Muslim nations to normalize relations.
He said it is up to Israelis and Palestinians "to work together to find a path forward that, as I said, both diffuses the current cycle of violence and, I hope, also leads to positive steps that each can take to build back some trust, to build back some confidence, to help make material improvement in people's lives, to foster a greater sense of security for Israelis and Palestinians alike." 
"That will take time. The immediate task, as I said, is to diffuse this cycle of violence," Blinken said. "And if both sides are genuinely committed to it, I think there are steps that they can take and that we heard from them that would help achieve that."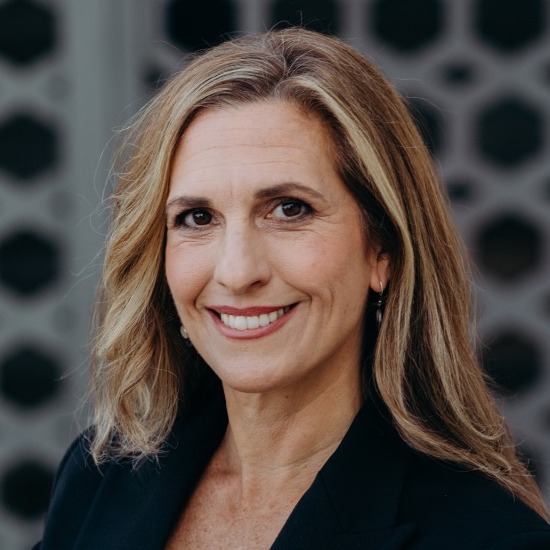 Nicole Jansezian was the news editor and senior correspondent for ALL ISRAEL NEWS.
A message from All Israel News
Help us educate Christians on a daily basis about what is happening in Israel & the Middle East and why it matters.
For as little as $5, you can support ALL ISRAEL NEWS, a non-profit media organization that is supported by readers like you.
Donate to ALL ISRAEL NEWS
Current Top Stories
Comments