STATE OF THE UNION – ANALYSIS
Biden delivers weakest State of the Union address I've ever heard – no mention of Israel, no mention of Iran threat, no plan to stop Putin, how is that possible?
Iowa Gov. Reynolds' response was great, but Biden is in charge for three more years – God have mercy on us all
US President Joe Biden delivers his first State of the Union address before lawmakers in Washington, DC, March 1, 2022. (Photo by Pool/Sipa USA)
BENTONVILLE, ARKANSAS—Okay, first, I have to be honest with you all.
I fell asleep during Biden's State of the Union address. 
No, really – I'm not being metaphorical or sarcastic.
I literally heard about half the speech, and then, hearing nothing of substance in a time of such domestic and global peril, I shut my eyes – just for a moment – and voila, I was gone.
GOV. KIM REYNOLDS IS A RISING STAR
By the time I woke up, my friend – Iowa Gov. Kim Reynolds was about to deliver the Republican response. 
I'm glad I caught her remarks.
They were wonderful.
Reynolds is a rising star.
She's pro-freedom, pro-growth, pro-life and pro-Israel. And she showed last night why she has an 88% approval rating among all Republicans in Iowa, 76% among Evangelicals, and is roaring towards reelection.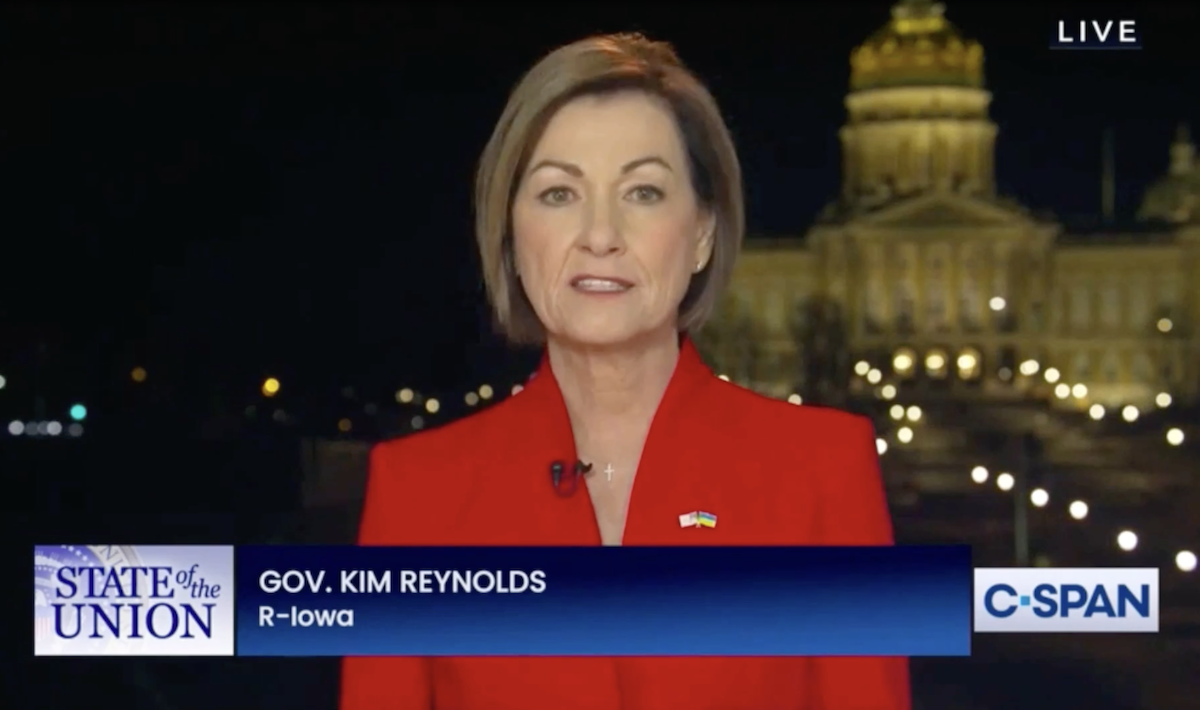 Iowa Governor Kim Reynolds delivers the Republican response to Biden's State of the Union address (Photo: Screenshot)
BIDEN BLEW IT
But back to Biden.
Chalk up my drowsiness to jet lag, if you'd like – it's true that I just arrived in the U.S. from Israel a few days ago.
But I don't buy it.
The truth is Biden had a chance to show me and 320 million other Americans – and a world desperate for American leadership – that he knows how to steer the American ship out of such dangerous waters.
But Biden blew it.
I've watched and listened to every State of the Union address given by every American president since 1990 when I moved to Washington, D.C. fresh out of college.
And without question, this was the weakest presidential address I've heard in 32 years. 
BIDEN PROJECTED WEAKNESS TOWARDS PUTIN 
With the biggest land war in Europe since World War II raging in Ukraine, how in the world could Biden dare stand before the American people and not lay out a specific, concrete and credible plan to stop Putin from devouring this democratic ally?
With Putin putting his nuclear forces on high alert, how could Biden dare avoid laying out a clear and compelling plan to prevent nuclear war with Russia?
Indeed, how could Biden not lay out a clear and compelling plan to arm Ukraine to truly defend itself from Russian invaders, especially with a 40-mile convoy of Russian battle tanks and troops bearing down on Kyiv at this hour?
How could Biden refuse to announce that he was banning the purchase of all Russian oil into the U.S. market, and urging the world to follow his lead? 
In short, how could Biden dare project such weakness towards Putin?
Honestly, to me the speech signaled Biden's willingness to surrender Ukraine to Putin.
First Kabul, now Kyiv.
This is a recipe for global catastrophe. 
Yet Biden didn't project even a modicum of the courage and resolve we're seeing in Volodymyr Zelenskyy.
NO MENTION OF ISRAEL OR IRAN?
But the Putin threat wasn't Biden's only failure.
There were so many others.
How in the world, for example, could Biden not mention the gravity of the Iran nuclear threat?
How could he not mention the mortal threat facing the U.S., Israel and our moderate Arab allies from a nuclear armed Iranian regime fully backed by a nuclear armed Putin regime?
How could Biden not even mention Israel at all?
What American president has ever completely ignored Israel in a State of the Union address?
Maybe it's happened in the 21st century, but I can't remember such a time?
Biden's demonstration of weakness in Afghanistan has tempted Putin to invade Ukraine, is tempting China to invade Taiwan, and is tempting Iran to break out and build The Bomb. 
His answer: Beg the mullahs in Tehran to re-enter the dangerous and disastrous nuclear deal from 2015.
Yet Biden didn't think any of this was worth discussing with the American people?
PRAY URGENTLY FOR THE PEACE OF JERUSALEM
I'm not going to get into all of the ridiculous things Biden said about economic and domestic policy.
Time doesn't permit.
And this is, after all, ALL ISRAEL NEWS – so, I'll stick to matters relevant to the epicenter.
But let me be clear.
American weakness is relevant to everyone living in Israel and the Arab/Muslim world.
A Russian dictator invading and occupying one country after another and no one taking decisive measures to stop him is relevant to everyone living in Israel and the Arab/Muslim world.
An American president ignoring the security and prosperity of the Jewish state is relevant to everyone living in Israel and the Arab/Muslim world.
So, I'm speaking out.
Don't get me wrong: I don't hate Joe Biden.
But I don't trust him.
When he does something right, I'll tell you.
He's just not giving me much to work with right now.
Still, I pray for him and his family and his team every day – because the Bible commands me to.
"Pray for kings and all who are in authority, so that we may lead a tranquil and quiet life in all godliness and dignity," the Apostle Paul wrote in I Timothy 2:1-2. 
I hope you take that seriously. 
I do. 
The world is too dangerous for us to fail to pray without ceasing, especially for our leaders.
I'm also praying for Putin precisely because he is my enemy.
And I'm praying harder than ever for the peace of Jerusalem, according to Psalm 122:6.
Because American weakness is an invitation to evil forces to rob, kill and destroy.
And history tells us that Israel and the Jewish people are always in the cross hairs when evil men are on the loose.

Joel C. Rosenberg is the editor-in-chief of ALL ISRAEL NEWS and ALL ARAB NEWS and the President and CEO of Near East Media. A New York Times best-selling author, Middle East analyst, and Evangelical leader, he lives in Jerusalem with his wife and sons.
Popular Articles
A message from All Israel News
Help us educate Christians on a daily basis about what is happening in Israel & the Middle East and why it matters.
For as little as $5, you can support ALL ISRAEL NEWS, a non-profit media organization that is supported by readers like you.
Donate to ALL ISRAEL NEWS
Latest Stories
Comments