Americans more bitterly divided than ever – poll finds 43% fear civil war is looming – and Biden's speech just made things worse
Israel's most important ally is in serious trouble – what should Evangelicals do?
Pro-abortion and anti-abortion demonstrators protest outside the U.S. Supreme Court after the leak of a draft majority opinion written by Justice Samuel Alito preparing for a majority of the court to overturn the landmark Roe v. Wade abortion rights, in Washington, D.C., May 3, 2022. (Photo: REUTERS/Evelyn Hockstein)
JERUSALEM—After traveling around the United States this summer, crisscrossing the country for six weeks and meeting with friends, family and officials, I came to a rather serious conclusion: American Evangelicals are at "DEFCON One."
DEFCON is a Pentagon term for "Defense Condition."
DEFCON Five is peace.
DEFCON One is all-out war.
Nearly every Christian we met said they genuinely fear for the future of the United States.
They see the lives of believers all around them imploding – people they love who call themselves followers of Jesus are engaged in adultery, divorce, anger, alcohol and drug addiction, unkindness and greed.
What's more, they see unbelievers becoming radicalized in their hatred of God and the Church, and in pushing values that are completely antithetical to the Bible.
And they see political divisions that are getting worse and threaten to tear the country apart.
POURING GAS ON THE RAGING FIRES
President Joe Biden – who came into office promising to heal the nation's divisions – delivered a speech yesterday in Philadelphia that was the most incendiary and divisive speech by any American president in my lifetime. Perhaps ever.
It certainly didn't seek to heal the nation's wounds. Rather, Biden poured gasoline on the already-raging cultural fires.
Biden accused most of the 74 million-plus Americans who voted for Donald Trump – many of whom were Bible-believing Christians – of representing "an extremism that threatens the very foundations of our republic."
Such people, he said, are "determined to take this country backwards — backwards to an America where there is no right to choose [abortion], no right to privacy, no right to contraception, no right to marry who you love [gay marriage]."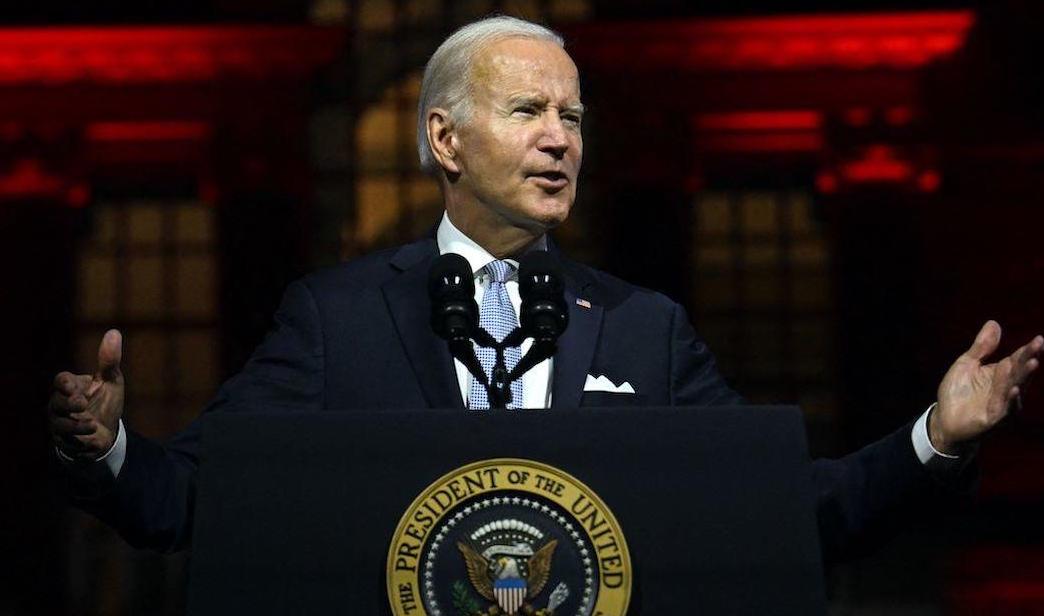 US President Joe Biden delivers a speech in Philadelphia, Pennsylvania, Sep. 1, 2022 (Photo: Screenshot)
If that weren't incendiary enough, Biden accused such conservatives of wanting to "fan the flames of political violence that are a threat to our personal rights, to the pursuit of justice, to the rule of law, to the very soul of this country."
Sinking in the polls, with even many in his own party hoping he won't run for re-election, Biden's speech reeked of desperation.
Yet wasn't it he who came into the White House vowing to restore unity to the country?
"For all those of you who voted for President Trump, I understand your disappointment tonight," Biden said on Nov. 7, 2020. "I've lost a couple myself. But let's give each other a chance. It's time to put away the harsh rhetoric, to lower the temperature. To see each other again. To listen to each other again. And to make progress, we have to stop treating our opponents as our enemies. They are not our enemies, they are Americans."
"This is the time to heal in America," Biden insisted. 
No more.
How does one navigate such choppy waters?
Not by binge-watching Netflix and drinking wine – medicating with entertainment and alcohol – while turning off all news and disengaging from the cultural turmoil.
We have no choice but to defend our beliefs – not with anger and hatred, but in a loving and winsome way – even as we try to persuade others to listen to God and His Word and embrace biblical values.
The question is, how?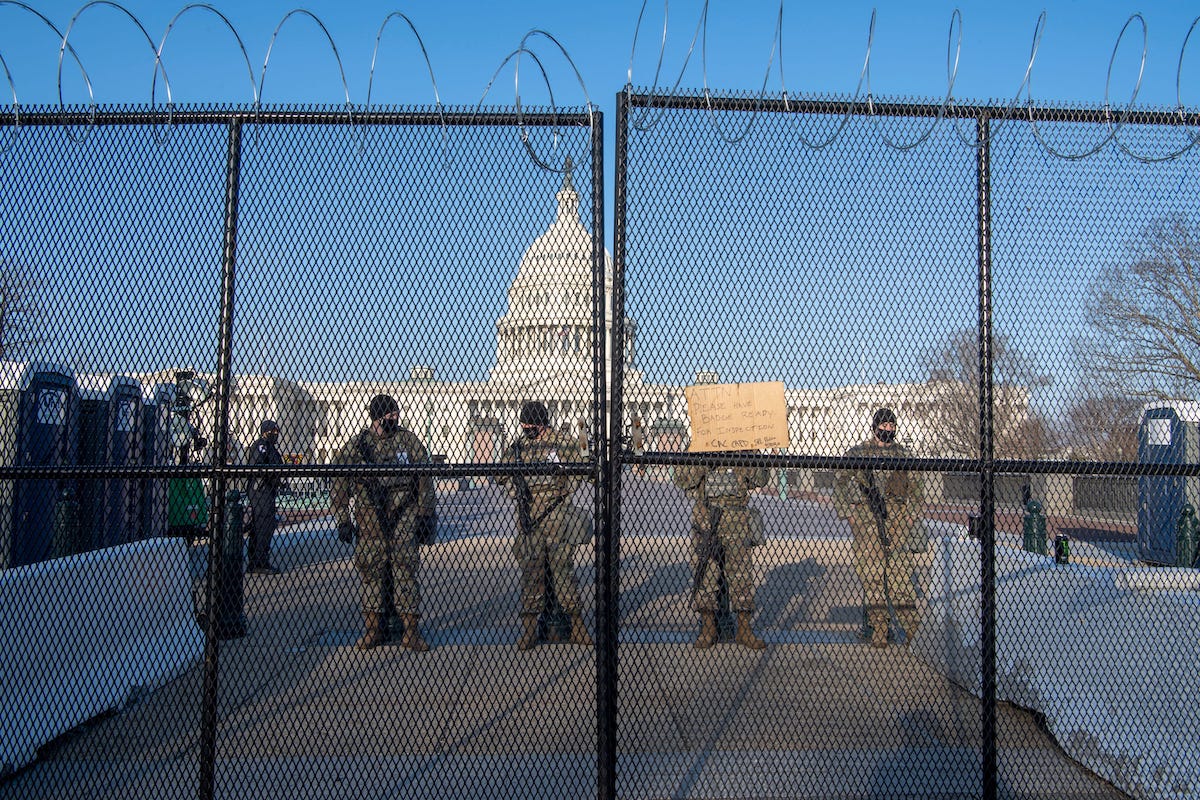 U.S. National Guard troops are seen inside the inner Capitol security perimeter on Thursday, March 4, 2021. (Photo: USA TODAY via Reuters)
ONE BIBLICAL VALUE AFTER ANOTHER UNDER ASSAULT
To be clear, here in Israel our society is also deeply divided along religious lines and far from following biblical truth. Abortion – to name just one example – is not challenged and is part of the healthcare package for most women.
Yet, while Israel is spiritually lost, it's a nation that God is sovereignly and supernaturally raising from the dust and ashes. And we are promised in the scriptures that we are heading towards a Romans 11:26 world where "all Israel will be saved."
Thus, I have great hope for Israel's future.
America, sadly, is a different story.
The very biblical values upon which America was founded – and upon which so many followers of Jesus in America are trying to model and pass on to the next generation – are under severe and relentless assault in the U.S.
The one bright spot this summer was the U.S. Supreme Court's decision to overturn Roe v. Wade.
That was a moment of great encouragement to followers of Jesus who have been praying and working towards this end for half a century.
Still, 63,459,781 innocent human babies have been aborted – murdered – since 1973. Annually, between 600,000 and 800,000 babies are aborted, and 2022 is unlikely to be any different.
This is terrible tragedy.
No nation can murder 63 million people and escape the judgment of the Almighty God.
That's why so many American Christians are grieving these painful truths.
What's more, Americans who passionately support abortion as a sacred right are dramatically turning up the volume, ramping up their political involvement and increasing their donations to pro-abortion candidates.
The pro-abortion movement is demanding that anyone who defends the sanctity of innocent human life be silenced, and that pro-life candidates not just be defeated in November but crushed.
Meanwhile, Christians see the biblical sanctity of marriage as an institution between one man and one woman under withering attack.
Meanwhile, children are under assault in public schools, taught there is no God, no Divine Creator, that we're all random products of evolution, that gender is fluid and that – even if there are males and females – that every child has the right to change their gender, with or without the involvement of their parents.
Children are being taught to be "woke" or to drink the Kool Aid of "critical race theory."
Governors shut down churches during the pandemic, even while allowing strip clubs and casinos to operate freely.
Christians feel under barrage by the so-called "mainstream media" who routinely mock their values.
They are exhausted and wish that it would all go away.
IS A CIVIL WAR COMING?
Having both been born and raised in the United States, my wife and I lived in Washington, D.C. for 24 years.
We were very active in the churches we attended, studying and teaching the scriptures, sharing the Gospel, discipling young believers, investing in the work of the Great Commission.
We were also actively engaged in defending and advancing our values in the marketplace, and in the political arena.
Lynn worked for Concerned Women for America, the largest Christian women's organization in the country with some 500,000 members.
I worked for various conservative non-profit organizations and political candidates who shared and championed our values, or most of them.
We experienced some wonderful victories, but we also saw growing divisions and the American Experiment faltering.
Now, at the age of 55, I have to say that I've never seen Americans more deeply or bitterly divided.
For years, I have warned that America is facing implosion and that the Church needs a major wake-up call. Ten years ago, I wrote an entire non-fiction book on the subject.
So far, God has been merciful. He has not unleashed the judgment America is due.
That is, in part, because faithful Christians are praying for revival inside the Church and a spiritual awakening among unbelievers – hopefully greater than the First Great Awakening of the 1700s, the Second Great Awakening in the 1800s, and the "Jesus Movement" of the 1970s when we came to faith in Jesus Christ, as did millions of others.
Yet, many other Christians are blowing up their marriages, their relationships with their children and the ministries God had granted them.
People's love is growing cold. Apostasy is real and increasingly rampant.
In short, the warning lights on the dashboard are blinking red.
Traveling through the States this summer, I could hear the ice cracking under our feet.
Now a new poll finds that nearly half of all Americans believe that a civil war is coming.
"What is the likelihood that political violence will culminate in a civil war in the U.S.?" asked a YouGov America poll conducted on Aug. 20 - 23, 2022 among 1,500 American adults.
"While only 14% of Americans say a civil war is very likely in the next decade, 43% say it is at least somewhat likely," the poll found. "About one in three – 35% – say it is not very or at all likely, and 22% are unsure."
I don't believe true, healthy, biblically-minded followers of Jesus Christ want civil war.
They may fear one, but they have no intention of taking up arms to launch one.
But they saw the riots in Manhattan, Minneapolis and Portland after George Floyd was killed.
They saw the chaos and carnage – followed by the calls of many on the left to "defund the police."
And they are understandably asking: Where is this all heading, and how can I be a peacemaker, a faithful and winsome – and fruitful – ambassador for Jesus in a world gone mad?
As the late Bible teacher and apologist Francis Schaeffer once put it, "How then shall we live?"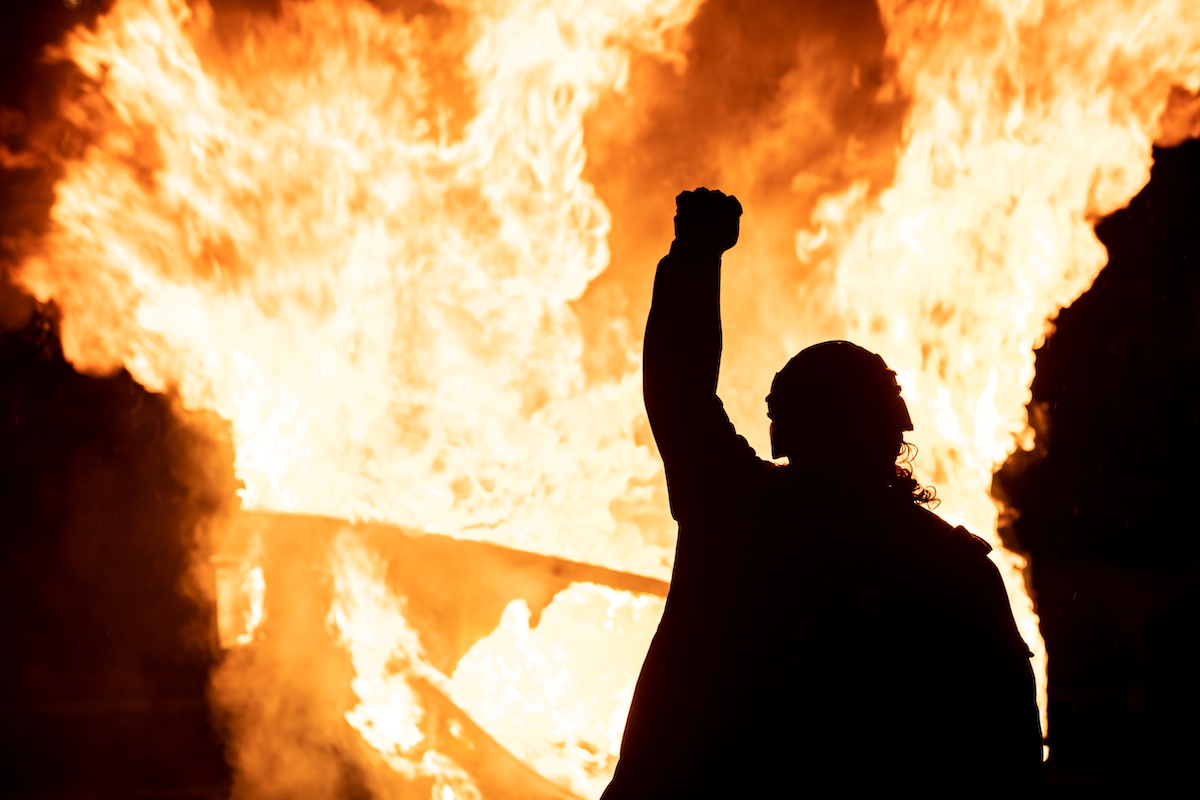 A protester gestures near a trash dumpster on fire shortly before a riot was declared after a march to the federal Justice Center on New Year's Eve in downtown Portland, Oregon, U.S., Dec. 31, 2020. (Photo: REUTERS/Mathieu Lewis-Rolland)
NOW WHAT?
As a dual U.S.-Israeli citizen who loves both of my countries dearly, one thing became clearer than ever this summer: Israel's most important strategic ally is in trouble.
The implications for Israel – and the world – of an American implosion are very serious.
God continues to give Americans urgent "wake-up" calls.
He is calling His people to listen to His voice and live out His Words. 
To speak the truth in love in their churches, neighborhoods and at the polls.
To serve those in need, loving the poor and vulnerable, the widows and orphans.
To tell people there is Good News amid all the bad.
To show our neighbors that there is hope amid such confusion.
To put our faith into action.
Too much of the Church appears to be asleep while the world's major superpower – the epicenter of freedom, democracy and religious liberty – moves towards the brink of disaster.
In my next "Wake-Up Call" column, I will go into all this further.
This is not a one-off column.
I hope it is the beginning of a conversation.
For now, let's remember to "seek first the Kingdom of God and His righteousness." (Matthew 6:33)
We will be no help to others if we are spiritually and emotionally depleted, much less bankrupt.
Be sure you're spending solid, deep time in the Word of God.

In lengthy times of prayer and quiet communion with Christ.

In intercessory prayer for your spouse, your children, your church congregation, and your nation.

And, course, in prayer for Israel and all the people of the Epicenter.
Don't give up.
Don't stop doing what you know is right.
"Fight the good fight of the faith." (I Timothy 6:12)
Clear your schedule of things that aren't critical.
And always remember the admonition of the Apostle Paul: "Let us not become weary in doing good, for at the proper time we will reap a harvest if we do not give up." (Galatians 6:9)

Joel C. Rosenberg is the editor-in-chief of ALL ISRAEL NEWS and ALL ARAB NEWS and the President and CEO of Near East Media. A New York Times best-selling author, Middle East analyst, and Evangelical leader, he lives in Jerusalem with his wife and sons.
A message from All Israel News
Help us educate Christians on a daily basis about what is happening in Israel & the Middle East and why it matters.
For as little as $5, you can support ALL ISRAEL NEWS, a non-profit media organization that is supported by readers like you.
Donate to ALL ISRAEL NEWS
Current Top Stories
Comments