After 'explosive' allegations that Trump assaulted Secret Service detail, said Pence deserved death threats, Trump's chief of staff calls hearing 'very, very bad day' for his former boss
Most pro-Israel president in U.S. history fiercely denies fresh allegations amid high drama on Capitol Hill
Then-U.S. President Donald Trump makes a fist during a rally to contest the certification of the 2020 U.S. presidential election results by the U.S. Congress, in Washington, DC., Jan. 6, 2021. (Photo: REUTERS/Jim Bourg)
WASHINGTON, D.C.—I'm in the American capital this week to learn more about President Joe Biden's upcoming trip to Israel and Saudi Arabia, and his feverish pursuit of a nuclear deal with Tehran despite little evidence the Iranian regime is willing to make real concessions.
But the big story this week concerns the bombshell allegations being made against former President Donald J. Trump.
With inflation soaring, the American economy stalling, Biden's approval ratings in free fall, and Roe v. Wade overturned due to his appointees to the Supreme Court, this should be a great week for Trump, who is signaling that he wants to run for president again in 2024.
Instead, Trump finds himself under intense fire – not from Democrats but from those who worked directly for him in the White House.
Former White House aide Cassidy Hutchinson testified on Capitol Hill on Tuesday that:
• Trump wanted to personally lead the march of violent protestors to the Capitol Building on Jan. 6, 2021
• Trump knew some of the protestors had weapons but didn't care
• Trump demanded that his Secret Service detail drive him to the Capitol, and when they didn't that he physically assaulted them.
• "I'm the f***ing president, take me up to the Capitol now," Trump allegedly said when Robert Engel, his Secret Service detail chief, told him it wasn't safe to go to the Capitol and that they had to return to the White House after Trump finished speaking to tens of thousands of his supporters at the "Save the Steal" rally near the White House.
• At that point, Hutchinson testified, "The president reached up towards the front of the vehicle to grab at the steering wheel. Mr. Engel grabbed his arm, said, 'Sir you need to take your hand off the steering wheel, we're going back to the West Wing, we're not going to the Capitol.' Mr. Trump then used his free hand to lunge towards Bobby Engel," allegedly grabbing the agent by the throat.
Hutchinson further testified that she and her White House colleagues repeatedly witnessed Trump in a rage against Biden, Congress and Vice President Mike Pence.
Hutchinson said that when Trump was informed that hundreds of his supporters had violently stormed into the Capitol Building to prevent Congress from certifying the election results – and that some of them were chanting "hang Mike Pence" – aides pleaded with then-White House Chief of Staff Mike Meadows to persuade Trump to quickly send reinforcements to the Capitol to stop the rioters and protect Congress and the VP, Meadows refused.
Hutchinson, once a top aide to Meadows, said that she personally watched White House Counsel Pat Cipollone demand Meadows take action. 
"I remember Pat saying something to the effect of, 'Mark, we need to do something more. They're literally calling for the vice president to be f***ing hung,'" Hutchinson testified.
"Mark responded something to the effect of, 'You heard him, Pat. He thinks Mike [Pence] deserves it. He doesn't think they're doing anything wrong,'" Hutchinson told the Congressional committee. 
Trump vehemently denied Hutchinson's numerous allegations on Truth Social, the social media company he founded after being kicked off of Twitter and Facebook.
"Her Fake story that I tried to grab the steering wheel of the White House Limousine in order to steer it to the Capitol Building is 'sick' and fraudulent," Trump wrote, while also claiming that Hutchinson applied to work for him at Mar-A-Lago after he left office but that he refused her.
Trump's son, Donald, Jr., also took to Twitter to vigorously refute the charges being made against his father, including retweeting stories that Secret Service agents are prepared to directly refute Hutchinson's allegations.
But Mick Mulvaney, a former congressman who served as Trump's budget director and, for a time, as his White House chief of staff, also took to Twitter to say that he knows Hutchinson personally and has no reason not to believe her testimony. 
"A stunning 2 hours," Mulvaney wrote. "1)Trump knew the protesters had guns. 2)He assaulted his own security team. 3)There may be a line from ProudBoys to the WH. 4)Top aides asked for pardons. 5)The commission thinks they have evidence of witness tampering. That is a very, very bad day for Trump."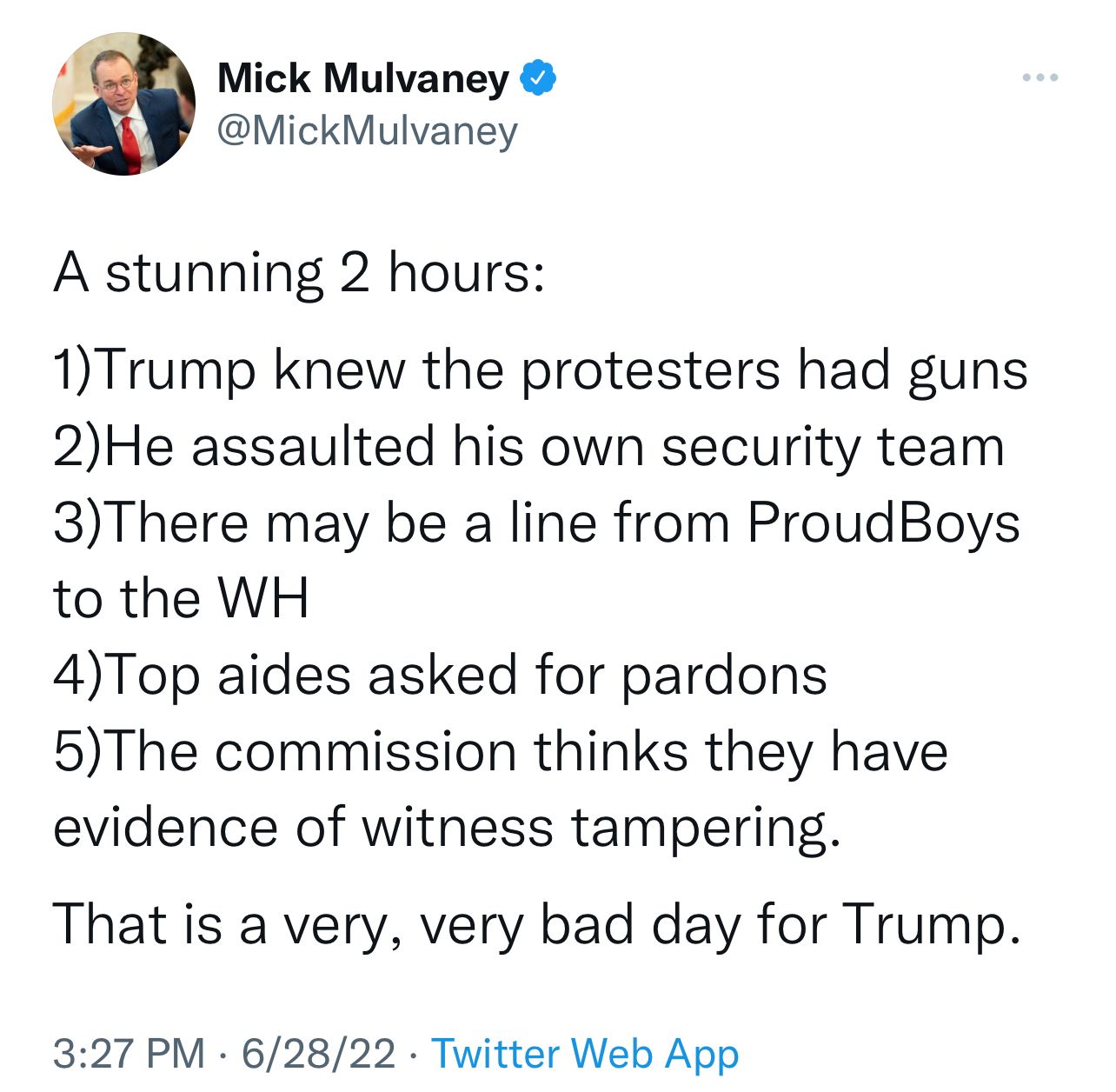 Mulvaney also tweeted, "This is explosive stuff. If Cassidy is making this up, they [other witnesses] will need to say that. If she isn't they will have to corroborate. I know her. I don't think she is lying."
In another tweet, Mulvaney wrote, "There is an old maxim: it's never the crime, it's always the coverup. Things went very badly for the former President today. My guess is that it will get worse from here."

Joel C. Rosenberg is the editor-in-chief of ALL ISRAEL NEWS and ALL ARAB NEWS and the President and CEO of Near East Media. A New York Times best-selling author, Middle East analyst, and Evangelical leader, he lives in Jerusalem with his wife and sons.
Popular Articles
A message from All Israel News
Help us educate Christians on a daily basis about what is happening in Israel & the Middle East and why it matters.
For as little as $5, you can support ALL ISRAEL NEWS, a non-profit media organization that is supported by readers like you.
Donate to ALL ISRAEL NEWS
Latest Stories
Comments