Opinion Blog / Guest Columnist
A global AI religion is working to bring about a 'post-human' era
Author describes the dangers of transhumanism doctrine, the "Singularity" and the destructive worldview that embraces a 'digital god'
Human and robot hands touching (Photo: Shutterstock)
"Within thirty years, we will have the technological means to create superhuman intelligence. Shortly after, the human era will be ended…I argue in this paper that we are on the edge of change comparable to the rise of human life on Earth. The precise cause of this change is the imminent creation by technology of entities with greater than human intelligence."
This apocalyptic warning was not spoken by some obscure, long-forgotten radical.
Rather, it was published in a NASA-sponsored paper, and has significantly shaped the thinking of much of our world's current scientific establishment.
Written by computer scientist and author Vernor Vinge, the paper is entitled, "The Coming Technological Singularity: How to Survive in the Post-Human Era."
Vinge's prophesy – that humanity will be surpassed by machine intelligence in 30 years – was published in 1993, 30 years ago.
Vinge refers to this event as "the Singularity"– a term and concept which has since spread throughout the artificial intelligence community.
While declaring that "we cannot prevent the Singularity," and that it may cause "the physical extinction of the human race," Vinge argued that it need not be disastrous, since "we have the freedom to establish [its] initial conditions."
He further stated that this Singularity, if guided for humanity's benefit, may, in fact, grant us "immortality."
Late last month – a week before the 30th anniversary of Vinge's prophecy – a group called the 'Future of Life Institute' (FLI) published an open letter offering a similar warning, calling for the temporary halt of AI labs' feverish pursuit of superintelligent machines.
"Should we automate away all the jobs, including the fulfilling ones?" the letter asks. "Should we develop nonhuman minds that might eventually outnumber, outsmart, obsolete and replace us? Should we risk loss of control of our civilization?"
In other words: Is the Singularity near? Are we about to enter a post-human era, in which civilization is taken over by "nonhuman minds," and humans are "replaced"? And is this a future we want?
The open letter – signed by OpenAI co-founder Elon Musk, Apple co-founder Steve Wozniak, co-author of the world's most-used AI textbook Stuart Russell, and thousands of others – warns of the "out-of-control race to develop and deploy ever more powerful digital minds that no one – not even their creators – can understand, predict, or reliably control."
Arguing that unregulated AI research may lead to "catastrophic effects on society," the letter urges AI labs to "immediately pause for at least 6 months the training of AI systems more powerful than GPT-4" (the recently released version of OpenAI's large language model AI).
Yet, while calling for the "pause" of the creation of these "nonhuman minds," and warning that highly-advanced artificial intelligence may lead to global catastrophe, the letter does not say that such "nonhuman minds" should not be created, or that the Singularity must be stopped altogether.
On the contrary, many of those who signed the letter – including the president of the organization that published it – have embraced a global religion which teaches that the Singularity may be humanity's best hope.
Transhumanism: An evolutionary religion
The FLI's 2023 open letter and Vernor Vinge's 1993 essay share much in common. Both speak of the coming creation of superintelligent, nonhuman minds, both warn of the possible disastrous consequences of such an advent, and both indicate that, if guided properly, the creation of nonhuman minds will change the history of humanity for the better.
This mutual focus on the coming of digital, "nonhuman minds" – what Vinge refers to as "the imminent creation by technology of entities with greater than human intelligence" – is due to the fact that Vinge and the FLI's leadership have a shared worldview.
While there are surely disagreements between them, Vernor Vinge and FLI President Max Tegmark are both faithful devotees of the transhumanist religion. These shared beliefs have even resulted in collaboration; Vinge signed the FLI's first open letter, and was invited by Tegmark to speak at the FLI's first conference in 2015.
The transhumanist religion to which Tegmark and Vinge hold teaches that every living being is merely a material product of an ongoing evolutionary process, that technological evolution will soon allow machine intelligence to reach and surpass human intelligence, and that through this technological evolution humanity may be able to transcend its nature.
In the final chapter of his book Homo Deus, Israeli historian Yuval Noah Harari (a signator of the FLI's open letter) calls this worldview "Dataism." Harari argues that it has "already conquered most of the scientific establishment," and that it "is mutating into a religion that claims to determine right and wrong."
"According to Dataism, human experiences are not sacred and Homo sapiens isn't the apex of creation," Harari summarizes. "Humans are merely tools for creating the Internet-Of-All-Things, which may eventually spread out from planet Earth to pervade the whole galaxy and even the whole universe. This cosmic data-processing system would be like God. It will be everywhere and will control everything, and humans are destined to merge with it."
Rooted in the evolutionary, materialist worldview which dominates the scientific and academic worlds, the transhumanist religion has come to permeate much of Silicon Valley, as well as international institutions like the World Economic Forum and the United Nations.
The transhumanist religion did not take over our world's scientific establishment out of nowhere, but has evolved and expanded over the course of many decades.
Transhumanism was founded by evolutionary biologist Julian Huxley, a president of the British Eugenics Society and the first director of the United Nations Educational, Scientific and Cultural Organization (UNESCO).
A prominent figure in British high society, Huxley was a vocal advocate of technocratic world government. Huxley wrote in his 1946 work UNESCO: its purpose and its philosophy that UNESCO "must envisage some form of world political unity, whether through a single world government or otherwise, as the only certainty for avoiding war."
Huxley recognized that such an international system must have a unified religious outlook, and was by no means shy about what worldview he thought should dominate the planet. In his 1927 book Religion Without Revelation, Huxley declared that "man can and should begin constructing a new common outlook, a new habitation for his spirit, new from the foundations up, on the basis of scientific humanism."
Thirty years after writing Religion Without Revelation, Huxley gave a name to this new religion: "transhumanism."
"The human species can, if it wishes, transcend itself…in its entirety," Huxley wrote in a 1957 essay. "We need a name for this new belief. Perhaps transhumanism will serve; man remaining man, but transcending himself, by realizing new possibilities of and for his human nature. 'I believe in transhumanism': once there are enough people who can truly say that, the human species will be on the threshold of a new kind of existence, as different from ours as ours is from that of Pekin man. It will at last be consciously fulfilling its real destiny."
The Singularity: An evolutionary prophesy
As transhumanism has evolved since its founding, it has come to teach that a new form of life is  soon to be created: Artificial General Intelligence (AGI).
While today's AI systems have rather narrow capabilities, AI labs across the world (Google's DeepMind and Microsoft-funded OpenAI being the most advanced) are working towards the creation of AGI – that is, AI with human-level intelligence.
Many leaders in the field of AI believe that once AGI is created, it will quickly surpass human intelligence by improving itself at an exponential rate, until it acquires "superintelligence."
The exponential self-improvement of AGI is referred to by transhumanists, and by the AI community in general, as "the technological singularity," "the Singularity," or "the intelligence explosion."
While one need not be a transhumanist to believe that AI will continue to surpass human-level intelligence in many fields (as it has already in areas like chess and Go), transhumanists believe that artificial intelligence will constitute a new species of intelligent life.
Because the image of God in man is denied by transhumanists, and all life is considered to be simply differing levels of evolved data-processing, transhumanists destroy the God-given distinctions between man, animal and machine. 
Tegmark bluntly describes the transhumanist view of man in the eighth chapter of his book Life 3.0: "a conscious person is simply food, rearranged."
Taking these materialist, transhumanist presuppositions to their logical conclusion, Tegmark publicly takes the position that treating an AGI as less valuable than a human being would be immoral.
In a 2017 panel discussion at MIT, titled "Transhumanism: Searching for the Spirit in the Machine," Tegmark explicitly argued that we should not value humans more highly than "intelligent" machines, decrying it as "carbon chauvinism."
"I really dislike this carbon chauvinism attitude, that things can only be smart if they're made of carbon atoms," Tegmark said. "And I think we should be more inclusive and diverse and view life as any entity that can retain its complexity and replicate – anything that can solve complex goals as being intelligent. In that sense, what that means is that if we actually succeed in creating AGI, we shouldn't think of it just as a created tool, we should think of it as creating a new life form."
Tegmark went on to argue that much of this "carbon chauvinism" comes out of a "really ugly interpretation of the Judeo-Christian tradition."
He also stressed that we must not put AGIs in subjection to humanity, saying that "we have done exactly that mistake with slavery."
Google co-founder Larry Page, whose company operates one of the world's top two AI projects, is also a firm believer in this transhumanist doctrine.
In a recent interview with Tucker Carlson on FOX news, Musk noted that Page has "made many public statements over the years that the whole goal of Google is what's called AGI: Artificial general intelligence or artificial superintelligence."
Musk said that Page seeks to create a "digital god."
Recalling conversations with Page regarding the potential dangers of the Singularity (which Page and Musk are both convinced is coming), Musk said the following:
"At one point, I said…we gotta make sure humanity's okay here – and then he called me a specieist. I was like, okay, that's it. Yes, I'm a specieist, okay? You got me. What are you?"
Extinction, enslavement or emancipation
Most transhumanists do not dispute the potential civilizational destruction of the Singularity they are working to bring about, and acknowledge that it may cause humanity's extinction or enslavement.
Oxford professor Nick Bostrom, co-founder the World Transhumanist Association (now known as "Humanity+"), has for many years warned of the disasters the Singularity could cause.
Bostrom even gave a presentation on AI to the United Nations with Tegmark in 2015, warning of the dangers of superintelligent AI.
Bostrom has described the potential disaster of the Singularity with the following words: "Before the prospect of an intelligence explosion, we humans are like small children playing with a bomb…We have little idea when the detonation will occur, though if we hold the device to our ear we can hear a faint ticking sound."
Yet Bostrom, whose work has been praised by Tegmark, as well as OpenAI CEO Sam Altman and Microsoft co-founder Bill Gates, does not believe the Singularity should be stopped.
Despite acknowledging these dangers, transhumanists like Bostrom continue to pursue the Singularity. Why? Because, denying the saving power of God, transhumanists put their hope in technological salvation.
While acknowledging that the Singularity could lead to mankind's extinction or enslavement, they believe the Singularity could instead lead to humanity's emancipation.
So, Bostrom has spoken openly of his transhumanist motivation to be a part of humanity's transition into "posthumanity," writing a paper entitled, "Why I Want to be a Posthuman When I Grow Up."
Google Director of Engineering Ray Kurzweil, who was personally hired by Page, speaks throughout his works of the transhumanist religious longings which drive him.
In the seventh chapter of his book "The Singularity is Near," Kurzweil writes that "we need a new religion," and that "once we saturate the matter and energy in the universe with [machine] intelligence, it will 'wake up,' be conscious, and sublimely intelligent. That's about as close to God as I can imagine."
Kurzweil declares that "evolution moves inexorably towards this conception of God, although never quite reaching this ideal. We can regard, therefore, the freeing of our thinking from the severe limitations of its biological form to be an essentially spiritual undertaking."
A revolution against reality
The transhumanist religion is, at its core, a revolution against reality.
Denying the hope of salvation in the God who made them, transhumanists seek salvation in the gods they are making.
Denying the existence of objective moral good, transhumanists seek to transcend traditional morality and reshape the world according to their desires.
Denying the immortality promised by Christ, transhumanists seek to gain immortality through technology.
Decades ago, Christian author C.S. Lewis warned of the coming post-human era this revolution would create.
Describing the thinking behind the destructive worldview from which transhumanism evolved, Lewis wrote the following in his 1947 book, "The Abolition of Man:"
"For the wise men of old the cardinal problem had been how to conform the soul to reality, and the solution had been knowledge, self-discipline, and virtue. For magic and applied science alike the problem is how to subdue reality to the wishes of men: the solution is a technique."
Lewis argued that a post-human future, in which mechanized, manipulated men would be governed by scientific "Conditioners," is the inevitable consequence of a society dominated by the materialist ideology that the internationalist elites of his day embraced:
"Man's conquest of himself means simply the rule of the Conditioners over the conditioned human material, the world of post-humanity which, some knowingly and some unknowingly, nearly all men in all nations are at present laboring to produce."
As Christians, we must reject the false hope of materialist, transhumanist transcendence.
We must reject the idea that man is merely a material being with material problems and material solutions.
We must remember that man is made in the holy image of God, and his deepest joy is found in being united to Him.
We do not need AI gods, we cannot create AI "life," and we must oppose the destructive madness of anyone who thinks otherwise.
ALL ISRAEL NEWS is committed to fair and balanced coverage and analysis, and honored to publish a wide-range of opinions. That said, views expressed by guest columnists may not necessarily reflect the views of our staff.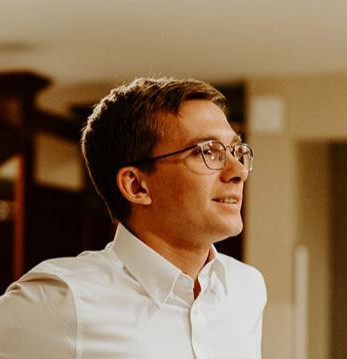 Jacob Leonard Rosenberg is an American-Israeli, an Evangelical Christian and the son of the founder of ALL ISRAEL NEWS. He writes about the intersection of science, technology, individual liberty and religious freedom.
Popular Articles
A message from All Israel News
Help us educate Christians on a daily basis about what is happening in Israel & the Middle East and why it matters.
For as little as $5, you can support ALL ISRAEL NEWS, a non-profit media organization that is supported by readers like you.
Donate to ALL ISRAEL NEWS
Latest Stories
Comments